Remote Hiring
How To Hire Administrative Assistants by Melissa Sepp on Mar 7, 2018
Administrative Assistant position is highly popular but finding a reliable candidate with the right skillset is not always an easy task. This guide is here to help you.
A good Administrative Assistant is the unsung hero of a business, keeping the cogs running smoothly and taking care of a wide array of day-to-day duties – everything from scheduling meetings to managing the social media.
It's a position that's in high demand. According to the US Bureau of Labor Statistics, there were over 3.9 million job openings for Admin Assistants in 2016. But finding a reliable candidate with the right skills set is not always easy.
This short guide will explain all you need to know about hiring a top quality Administrative Assistant, including how and when to hire an Administrative Assistant, what skills are needed for this role, and how to figure out which candidate is the most suitable.
What do Administrative Assistants do?
In short, Administrative Assistants take care of the daily jobs around the office. This can range everything from dealing with the coffees and teas to helping prepare reports. They are often the front face or voice of the company, being the first point of contact for visitors or callers.
There are different roles that fall under the description of Administrative Assistant, including Receptionist, Virtual Assistant and Executive Assistant.
The Administrative Assistant annual salary is usually between $35 – 45k for a standard role in the US.
When to hire an Administrative Assistant?
You should consider hiring an Admin Assistant if the following applies to you:
You're always bogged down with admin tasks at the expense of higher-level business concerns such as planning and strategy.
There are day-to-day business tasks not getting done (e.g. nobody to answer phone calls or emails, a stack of filing or paperwork to do).
You're spending too many hours juggling all aspects of the business and your work-life balance is out of sync.
Admin tasks get covered but poorly. It's been a case of everyone chipping in and it's all a bit uncoordinated.
Administrative Assistant job description
The Administrative Assistant job description is key to attracting the right candidates. It should give a good overview of the post, accurately detail required skills for the job and include other important details (salary range, office environment, etc.).
Use the task and required skills list below to put together a strong Admin Assistant job ad and job description that will attract quality candidates.
Administrative Assistant job tasks:
General communication duties – dealing with phone calls, emails, etc.
Organizing meetings and events
Managing paper and electronic filing systems, including database management
Placing equipment orders
Providing support to visitors and seeing to their basic needs
Other duties as required (e.g. dealing with lunches, coffees, errands, etc.)
Administrative Assistant job skills
1) Basic IT skills
Office software, spreadsheets, managing databases, dealing with emails and social media – all this requires strong basic level of IT skills.
2) Communication skills
Your Admin Assistant will be crucial for smooth information flows between staff and will also most likely spend a lot of time communicating with clients, customers or partners.
3) Interpersonal skills
Having a good telephone manner and being able to present themselves as the 'friendly face' of the company will be important, as will be the ability to deal with the occasional awkward person or situation tactfully without blowing a fuse.
4) Organizational skills
Admin Assistants often work in busy office environments and are tasked with making sure they function efficiently and smoothly. You'll need a highly organized person who can multitask and keep everything nicely coordinated.
5) Attention to detail
A great Admin Assistant will not only do their own work to a high level of accuracy but will be able to pick up on and correct any errors made elsewhere in the business before they become expensive mistakes.
6) Time management skills
They need to be able to keep on top of a heavy schedule, prioritize accordingly and meet an ongoing calendar of deadlines.
7) Problem-solving skills
The best Admin Assistants are able to think on their feet and nip many problems in the bud before they become problems, sometimes so that you don't even know anything has happened.
How to hire strong candidates for Administrative Assistant position?
Administrative Assistant is a highly popular position. As this position usually gets lots of applicants, you'll need a highly effective way to pick out the best candidates from hundreds of resumes.
After interviewing lots of hiring managers who've recruited Assistants, we've found that a good way to find a top-notch Administrative Assistant is to replace traditional CVs with a few job-related questions.
Using a well-designed job simulation test helps you:
Draw out the best candidates who have demonstrated that their skills are a match for the role.
Weed out any weak candidates who may otherwise have sneaked through by lying about their abilities on their resume.
Save hours of time reading through resumes and cover letters.
Helps you see candidates beyond their resumes
Helps you know candidate's strengths and weaknesses before interviews.
Administrative Assistant interview questions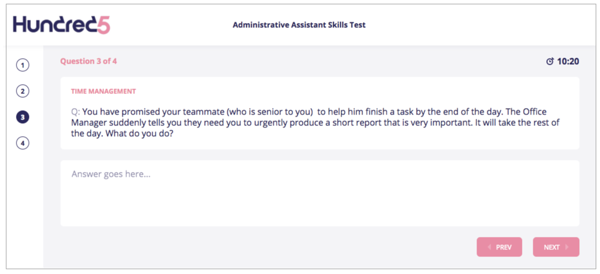 Here are a few Administrative Assistant job skills questions you could ask, along with what to look for in answers.
1) Time management
You have promised your teammate (who is senior to you) to help him finish a task by the end of the day. The Office Manager suddenly tells you they need you to urgently produce a short report that is very important. It will take the rest of the day. What do you do?

This tests ability to prioritize under pressure when there's no chance of completing both pieces of work. A good answer would be to prioritize the work for the Office Manager as this is more urgent and he has seniority, but to apologize to the other member of staff and tell them when you'll be able to finish their job. Red flags would be telling the office manager the report can't be done, or dropping the other work without rescheduling it.
2) Communication skills
Your manager has asked you to invite all staff to a meeting to discuss a forthcoming project. Compose a short message including details of the meeting and explaining that attendance is important.

This will test ability to communicate a straightforward message using appropriate language. Red flags would be sending a message that was unclear, didn't include all relevant information or used unprofessional language.
3) Interpersonal skills

Your boss doesn't like one of your colleagues and asks for your help in gathering evidence on them to make a case for their dismissal. Do you:
A) Agree to this. Your boss obviously has a good reason for doing it and you don't see why you shouldn't help.
B) Refuse to help. It's not part of your job description to spy on colleagues, you feel it's unprofessional and you're uncomfortable being put in that position. (Correct)
C) Agree in order to keep your boss happy, but tip off your colleague about what's happening. This way, you've done what is asked of you but behaved fairly.
Being able to manage conflicts or tricky situations is often a key skill when you're working with groups of people. The correct option here is the second one. It's unfair for a boss to use an employee in such a way and they need to be told that they've overstepped the mark. Answers A and C both drag the candidate into the conflict and risk making things worse.
Over to you
Now it's time to put everything you've learnt about Administrative Assistant skills into practice!
Need some help figuring out how to get started?
To learn more about hiring based on skills and performance not resumes, check this: What Is Performance-Based Hiring And Why Should You Use It (Complete Guide)
If you need help coming up with good behavioural questions, check this: 100 Soft Skills Assessment Questions for Hiring Top Talent
To set up your own skills-based hiring campaign for recruiting Administrative Assistants, check out Hundred5 – it's free to start and you pay only once you get candidates.