Case Study: Listonic keeps bias out of hiring with Hundred5
Listonic, a popular shopping list app, needed a better and faster way to get an objective view of candidates' competence and job fit. With Hundred5, they were able to remove the usual pre-judgments that come from Linkedin profiles and resumes, and make an unbiased hire for a remote position faster. Here's how they did it.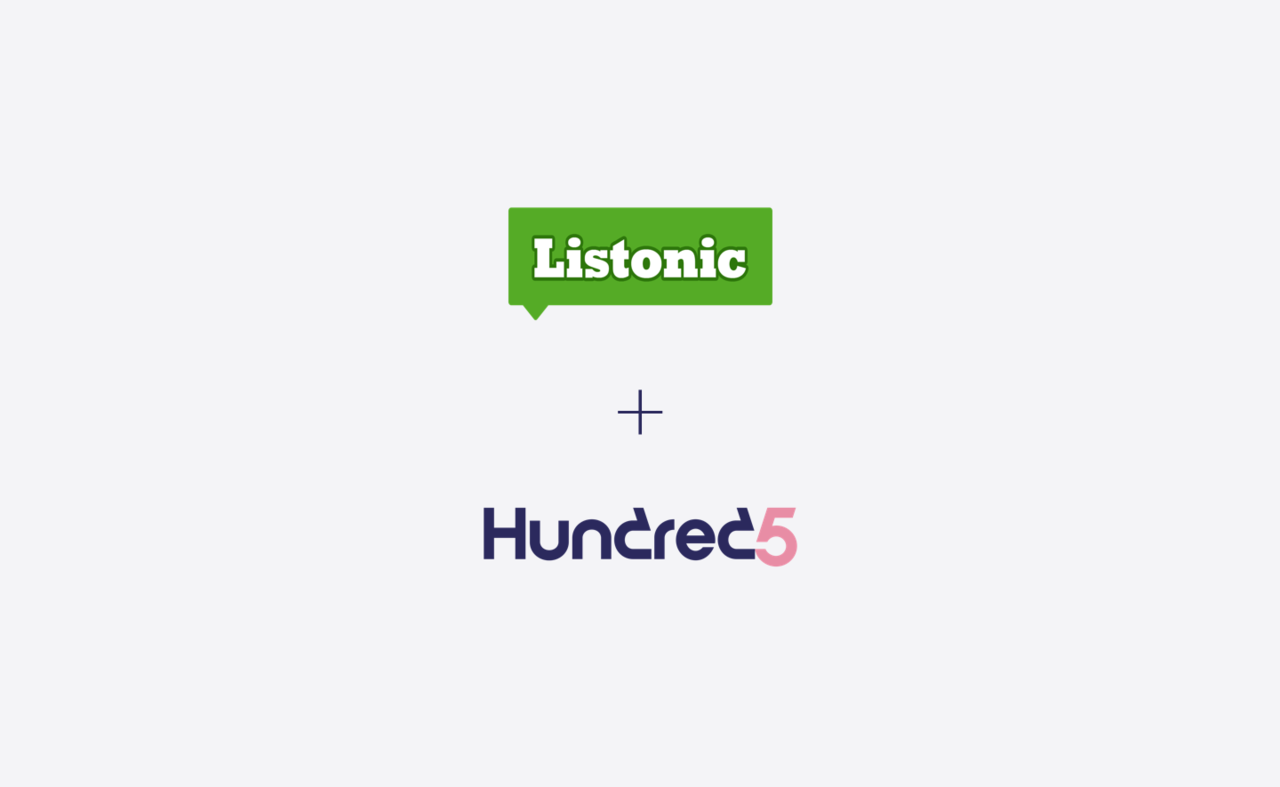 About Listonic

Company: Listonic is a smart shopping list app for mobile and web. Besides making shopping a breeze for over 2 million people, they also monetize ad placement for FMCG, retail and consumer brands. As an ad revenue based company, they've run hundreds of campaigns for their clients and have won awards for brands such as Durex, Danone, Mastercard, Nestle, P&G, Philips, and Unilever.
Website: http://www.listonic.com/content/en/

Type: B2B / B2C

Company size: 21

Position hired with Hundred5: Sales Partner (remote position)



"For many roles, you don't need to focus so much on education or previous experience. What matters is the right attitude and skills. Hundred5 helped us quickly test those things before even talking to candidates. This greatly improved our process and made us confident that we've chosen the best possible person for the job."


- Emil Krzeminski, Head of International Sales @ Listonic
The Challenge: Resumés were misleading
Before using Hundred5, Listonic followed the traditional hiring process. They started by looking at candidates' resumes and Linkedin profiles. Candidates who looked good on paper were invited to an interview in their office.
After spending 30-45 minutes interviewing the candidate, candidates with 'the perfect resume' often turned out to lack the level of expertise and skills they had listed on their profiles.
This misleading and time-consuming process made the team at Listonic rethink their hiring process and look for better ways to pre-screen candidates, especially when hiring for their first remote role.
"We wanted to speed up and democratize our hiring process - so that no pre-judgments would be made based on LinkedIn profile or resume length."
Their goal was to find a tool that would help them get an objective view on the candidate's skills and job fit as early and as fast as possible. This was especially important when hiring remotely for the first time without any help from HR and recruiters.


The solution: Using Hundred5 to remove resume bias
When Emil Krzeminski, Head of International Sales at Listonic, needed to hire for a remote position for the first time, there was a lot to think about. It was important for him to:
Reach international candidates from around the world with a small budget

Get a good understanding of candidates' job skills, attitude, communication skills, and their fit for a remote position
Do it all as fast and easy as possible without any help from an HR person
Emil turned to Hundred5 to overcome these hiring challenges. He didn't want to ask for candidates CVs or cover letters. He wanted to find a person with the right attitude and the basic level of knowledge.
He hoped to get as much information about candidate's competence as possible via the screening test. He requested Hundred5's help to build a customized skills test that would assess candidates' job fit and ability to work remotely.
"I was a bit skeptical about using skills tests at first. I was scared that candidates can google the questions and fake their result. But Hundred5 proved me completely wrong. The customized screening test helped us immediately see if the candidate will be a good fit or not."



- Emil Krzeminski
Once the skills test was ready, Emil promoted the job opening via free Facebook groups and through paid Facebook Ads.
3 weeks after publishing the job opening, Listonic had a small list of pre-qualified 'Potential Hires' to contact. All other applicants were automatically contacted by Hundred5 automated emails.
The results: Hiring completely objectively, without resumes
For Listonic, the biggest value of Hundred5 was the increase in confidence and objectivity around the hiring decision. Thanks to Hundred5 skills test, Emil didn't need to look at candidates resumes and LinkedIn profiles at all.
"I knew that if I look at CVs, I will unintentionally start judging candidates by the photo, age, gender etc. Hundred5 screening test helped us assess candidates objectively and focus only on the best ones.

If someone couldn't communicate well or didn't bother to answer all the questions, that was a sign that the person won't be a good fit for a remote position. You can never assess these things through LinkedIn, no matter how hard you try."
- Emil Krzeminski

Another positive thing that Emil noticed was that the job interviews became a lot more productive. Since the screening test had already given him a good overview of the candidate's strengths and weaknesses, he didn't need to focus on that during the interview. Instead, he could use the interview time to talk about the day-to-day work, expectations for the position etc.
All in all, Hundred5 made Listonic's hiring practice more objective, easier and quicker.
"Without Hundred5 I would probably still be wondering if I hired the right person based on the limited and subjective information I get from CVs and interviews."
- Emil Krzeminski
Make better hires
Source, review and hire the best talent fast.
Hire stronger candidates faster
We give you the tools to source, engage and filter out the best candidates.
Try Hundred5 for free ›